Bitcoin slides amid rollercoaster ride
30 November 2017
http://www.bbc.com/news/business-42178705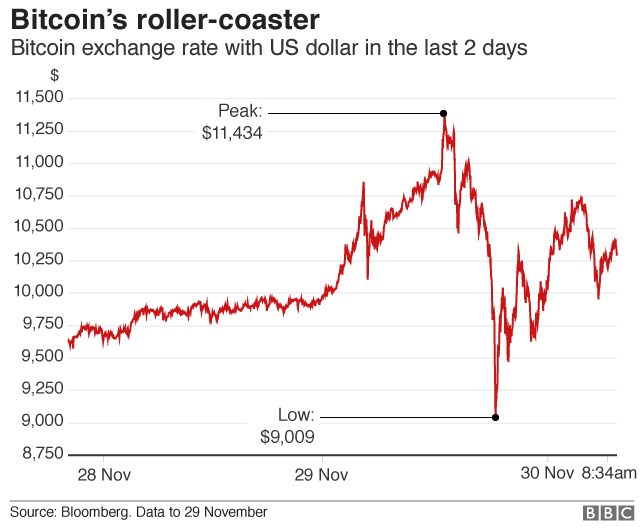 Sir Jon Cunliffe, the Bank's deputy governor for financial stability, told the BBC on Wednesday: "People need to be clear this is not an official currency. No central bank stands behind it, no government stands behind it."
US regulators have moved towards treating some of them as currencies, whereas Korean regulators see them as commodities.
A steady stream of about 3,600 new Bitcoins are created a day – with about 16.5 million now in circulation from a maximum limit of 21 million.
Bitcoin's Price Swings Have Been Especially Crazy in the Last 24 Hours. Here's Why
By David Meyer  http://fortune.com/2017/11/30/bitcoin-9000-price-plunge-recovery/
To spell out precisely how volatile we're talking here, it lost $1,000 in value in the space of around 10 minutes.
the IRS just got a court to back it up in its demand that Coinbase hand over details of thousands of accounts that have been high-volume bitcoin traders, so it can collect back-taxes for unreported transactions.
Vitor Constancio, the vice-president of the European Central Bank, warned on Wednesday that people should think twice about buying into bitcoin at this stage in the game.
++++++++++++
+++++++++++
more on bitcoin in this IMS blog
http://blog.stcloudstate.edu/ims?s=bitcoin
+++++++++++
Zcash