Social Media Use in 2018
A majority of Americans use Facebook and YouTube, but young adults are especially heavy users of Snapchat and Instagram
http://www.pewinternet.org/2018/03/01/social-media-use-in-2018/
early 2018 is defined by a mix of long-standing trends and newly emerging narratives
Facebook and YouTube dominate this landscape, as notable majorities of U.S. adults use each of these sites. At the same time, younger Americans (especially those ages 18 to 24) stand out for embracing a variety of platforms and using them frequently. Some 78% of 18- to 24-year-olds use Snapchat, and a sizeable majority of these users (71%) visit the platform multiple times per day. Similarly, 71% of Americans in this age group now use Instagram and close to half (45%) are Twitter users
The video-sharing site YouTube – which contains many social elements, even if it is not a traditional social media platform – is now used by nearly three-quarters of U.S. adults and 94% of 18- to 24-year-olds.
a majority of users (59%) say it would not be hard to stop using these sites, including 29% who say it would not be hard at all to give up social media.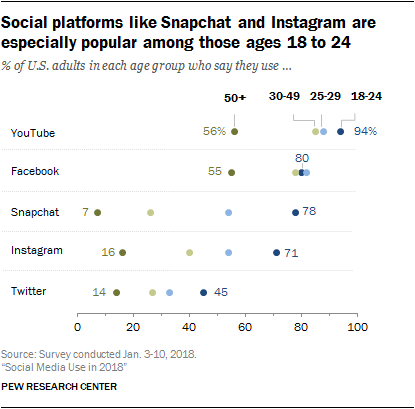 Pinterest remains substantially more popular with women (41% of whom say they use the site) than with men (16%).
LinkedIn remains especially popular among college graduates and those in high-income households. Some 50% of Americans with a college degree use LinkedIn, compared with just 9% of those with a high school diploma or less.
The messaging service WhatsApp is popular in Latin America, and this popularity also extends to Latinos in the United States – 49% of Hispanics report that they are WhatsApp users, compared with 14% of whites and 21% of blacks.
+++++++++++++++++++
more on social media use in this IMS blog
http://blog.stcloudstate.edu/ims?s=social+media+use