Alternative Credentials on the Rise
Interest is growing in short-term, online credentials amid the pandemic. Will they become viable alternative pathways to well-paying jobs?
Paul Fain August 27, 2020
https://www.insidehighered.com/news/2020/08/27/interest-spikes-short-term-online-credentials-will-it-be-sustained
A growing body of evidence has found strong consumer interest in recent months in skills-based, online credentials that are clearly tied to careers, particularly among adult learners from diverse and lower-income backgrounds, whom four-year colleges often have struggled to attract and graduate.
For years the demographics of higher education have been shifting away from traditional-age, full-paying college students while online education has become more sophisticated and accepted.
That has amplified interest in recent months among employers, students, workers and policy makers in online certificates, industry certifications, apprenticeships, microcredentials, boot camps and even lower-cost online master's degrees.
Moody's, the credit ratings firm, on Wednesday said online and nondegree programs are growing at a rapid pace.
Google will fund 100,000 need-based scholarships for the certificates, and said it will consider them the "equivalent of a four-year degree" for related roles.
Google isn't alone in this push. IBM, Facebook, Salesforce and Microsoft are creating their own short-term, skills-based credentials. Several tech companies also are dropping degree requirements for some jobs, as is the federal government, while the White House, employers and some higher education groups have collaborated on an Ad Council campaign to tout alternatives to the college degree.
One of the most consistent findings in a nationally representative poll conducted by the Strada Education Network's Center for Consumer Insights over the last five months has been a preference for nondegree and skills training options.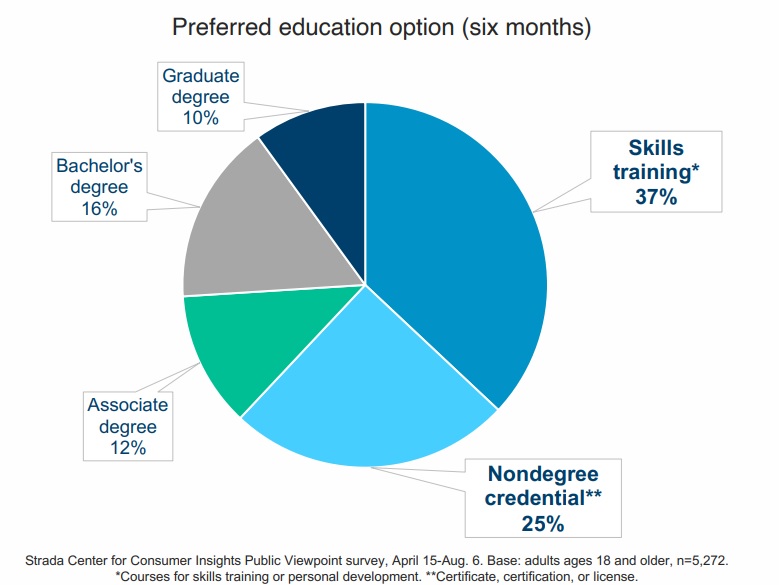 Despite growing skepticism about the value of a college degree, it remains the best ticket to a well-paying job and career. And data have shown that college degrees have been a cushion amid the pandemic and recession.
Experts had long speculated that employer interest in alternative credential pathways would wither when low employment rates went away,….  Yet some big employers, including Amazon, are paying to retrain workers for jobs outside the company as it restructures.
++++++++++++
more on badges, microcredentialing in this IMS blog
http://blog.stcloudstate.edu/ims?s=microcredential