A Strategist's Guide to Industry 4.0. Global businesses are about to integrate their operations into a seamless digital whole, and thereby change the world.
Companies that embrace Industry 4.0 are beginning to track everything they produce from cradle to grave, sending out upgrades for complex products after they are sold (in the same way that software has come to be updated). These companies are learning mass customization: the ability to make products in batches of one as inexpensively as they could make a mass-produced product in the 20th century, while fully tailoring the product to the specifications of the purchaser
.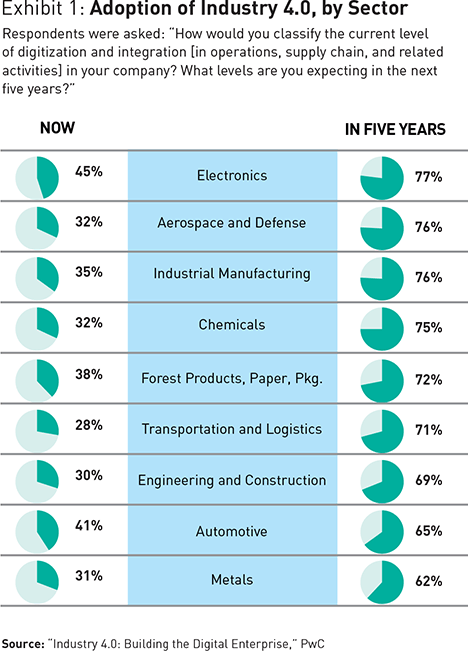 Three aspects of digitization form the heart of an Industry 4.0 approach.
• The full digitization of a company's operations
•  The redesign of products and services
•  Closer interaction with customers
Making Industry 4.0 work requires major shifts in organizational practices and structures. These shifts include new forms of IT architecture and data management, new approaches to regulatory and tax compliance, new organizational structures, and — most importantly — a new digitally oriented culture, which must embrace data analytics as a core enterprise capability.
Klaus Schwab put it in his recent book The Fourth Industrial Revolution (World Economic Forum, 2016), "Contrary to the previous industrial revolutions, this one is evolving at an exponential rather than linear pace.… It is not only changing the 'what' and the 'how' of doing things, but also 'who' we are."
This great integrating force is gaining strength at a time of political fragmentation — when many governments are considering making international trade more difficult. It may indeed become harder to move people and products across some national borders. But Industry 4.0 could overcome those barriers by enabling companies to transfer just their intellectual property, including their software, while letting each nation maintain its own manufacturing networks.
+++++++++++++++++++++++++++
more on the Internet of Things in this IMS blog
https://blog.stcloudstate.edu/ims?s=internet+of+things
also Digital Learning
https://blog.stcloudstate.edu/ims/2017/03/28/digital-learning/