Survey: IoT Overtakes Mobile as Security Threat
By Rhea Kelly 06/05/17
https://campustechnology.com/articles/2017/06/05/survey-iot-overtakes-mobile-as-security-threat.aspx
a report from ISACA, a nonprofit association focused on knowledge and practices for information systems. The 2017 State of Cyber Security Study surveyed IT security leaders around the globe on security issues, the emerging threat landscape, workforce challenges and more.
53 percent of survey respondents reported a year-over-year increase in cyber attacks;
62 percent experienced ransomware in 2016, but only 53 percent have a formal process in place to address a ransomware attack;
78 percent reported malicious attacks aimed at impairing an organization's operations or user data;
Only 31 percent said they routinely test their security controls, while 13 percent never test them; and
16 percent do not have an incident response plan.
65 percent of organizations now employ a chief information security officers, up from 50 percent in 2016, yet still struggle to fill open cyber security positions;
48 percent of respondents don't feel comfortable with their staff's ability to address complex cyber security issues;
More than half say cyber security professionals "lack an ability to understand the business";
One in four organizations allot less than $1,000 per cyber security team member for training; and
About half of the organizations surveyed will see an increase in their cyber security budget, down from 61 percent in 2016.
++++++++++++++++++++++++++
IoT to Represent More Than Half of Connected Device Landscape by 2021
By Sri Ravipati 06/09/17
https://campustechnology.com/articles/2017/06/09/iot-to-represent-more-than-half-of-connected-device-landscape-by-2021.aspx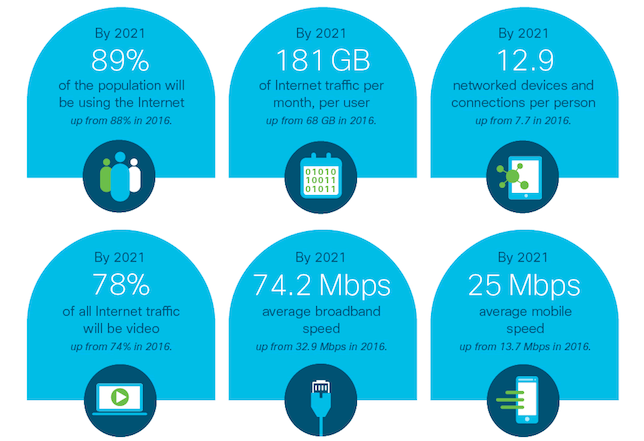 analysis comes from Cisco's recent Visual Networking Index for the 2016-2021 forecast period.
IP video traffic will increase from 73 percent of all internet consumer traffic in 2016 to 82 percent in 2021 (with live streaming accounting for 13 percent);
Virtual and augmented reality traffic is expected to increase 20-fold during the forecast period at a compound annual growth rate of 82 percent; and
Internet video surveillance traffic is anticipated to grow during the forecast period, comprising 3.4 percent of all internet traffic.
To learn more, view the full report.
+++++++++++++++++++++++++++
By Danielle R. June 14th, 2017
 1. Labeling and Finding
2. Booking and Availability
3. Preparation
4. Intervention
5. Research
Laboratories are often required to be completely controlled spaces with considerations made for climate, light, and sometimes even biometric data inside the lab.
+++++++++++++++++++++
https://blog.stcloudstate.edu/ims?s=internet+of+things
https://blog.stcloudstate.edu/ims?s=iot