Student Engagement with E-Texts: What the Data Tell Us
by Serdar Abaci, Joshua Quick and Anastasia Morrone Monday, October 9, 2017
https://er.educause.edu/articles/2017/10/student-engagement-with-etexts-what-the-data-tell-us
This case study of Indiana University's e-text initiative reports on students' actual use of and engagement with digital textbooks.
In a typical semester, students read more in the first four weeks and less in later weeks except during major assessment times; in a typical week, most reading occurs between 5:00 p.m. and 2:00 a.m. from Monday to Thursday, indicating that students use e-texts mainly as a self-study resource.
Highlighting was the markup feature most used by students, whereas use of the other interactive markup features (shared notes, questions, and answers) was minimal, perhaps because of students' lack of awareness of these features.
Research found that higher engagement with e-texts (reading and highlighting) correlated with higher course grades.
Although cost savings is often cited as a key advantage of electronic textbooks (aka, e-textbooks or simply e-texts), e-texts also provide powerful markup and interaction tools. For these tools to improve student learning, however, their adoption is critically important.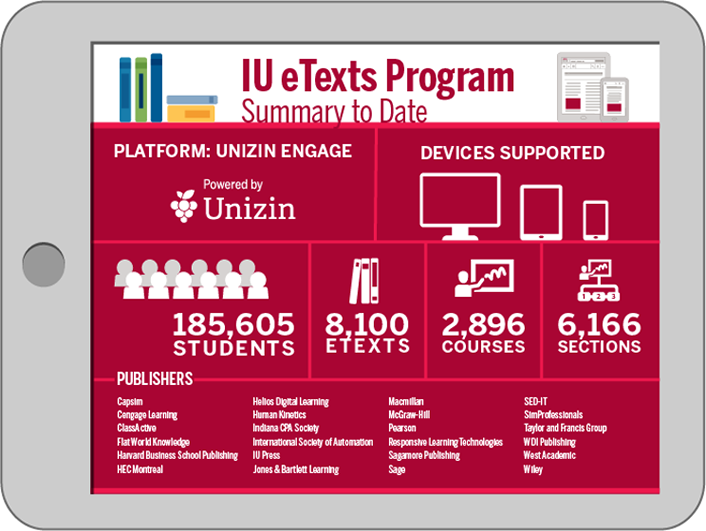 The Indiana University e-texts program, which began in 2009, has four primary goals:
Drive down the cost of materials for students
Provide high-quality materials of choice
Enable new tools for teaching and learning
Shape the terms of sustainable models that work for students, faculty, and authors
To date, student savings on textbooks amount to $21,673,338. However, we recognize that many students do not pay the full list price for paper textbooks when they purchase online, buy used copies, or recoup some of their costs when they resell their texts after the semester is over.
herefore, we divide the calculated savings by two and report that total as a more accurate representation of student savings. Consequently, we claim that students have saved about $11 million since IU's e-texts program started in spring 2012.
In addition to printing through the e-text platform, students can purchase a print-on-demand (PoD) copy of an e-text for an additional fee.
One downside of e-texts is that students lease their textbook for a limited time instead of owning it. This lease generally lasts a semester or six months, and students lose their access afterwards. However, with IU's e-text model, students get access to the textbook before the first day of class and maintain their access until they graduate from Indiana University. That is, students can go back to the e-texts after their course to review or reference the content in the book. This could be especially important if the e-text course is a prerequisite for another course.
+++++++++++++++++++
more on etext and ebooks in this IMS blog
https://blog.stcloudstate.edu/ims?s=ebook